Career at a Leading DeFi Intelligence Provider
HashEx has offices in the US, Asia, and Europe, but the company is well known in the global crypto market due to its extensive experience and solid reputation.
Founded in 2017 as a software audit startup, HashEx has become an impactful DeFi intelligence and security provider.
Out team develops software solutions to bring security norms into decentralized market. HashEx vision is to become the #1 DeFi Intelligence and Security Provider.
We believe that only relevant, factual data and top security standards can make the DeFi market a safe financial space. If you are passionate about our common goal, we are always looking for talented individuals with knowledge, experience, and a desire to learn.
Flexible schedule
Work from anywhere in the world. You can take days off for various life circumstances without losing income.
Social package
Paid vacation, insurance, gym, we even pay for your massages and psychotherapy + Gifts for holidays.
Skill improvement
We support your desire to develop, we pay for professional and language courses.
Parties and fun
Our HR department does everything to make work enjoyable and for employees to have a good time with each other.
We hold events in different locations
HashEx Academy Certification
The HashEx Academy Test for a "Solidity Developer I" is a 100-question test with an emphasis on technical knowledge that a Solidity developer or auditor must possess.
HashEx's comprehensive approach to the analysis of developer's knowledge allows to highlight the most valuable skills and determine whether the candidate is prepared to solve the most common tasks.
Learn more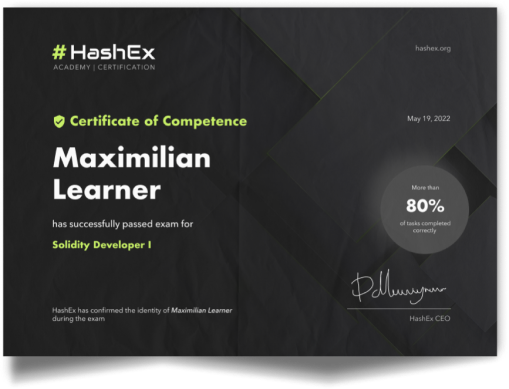 Build a Blockchain Сareer With Us
HashEx Academy offers:
An interview with an expert
Developer Bootcamp
Career consulting from an HR expert
All services are provided according to the highest standard.
Learn more
Do you want to join HashEx?
Email us at
hr@hashex.org
Include the role title in the subject line (it'll help us to sort through the emails).
Send along links that best showcase the relevant projects you've built and done.